On Windows, you can print all of the non-white colors in your PDF file as black, resulting in a simple monochrome printout. Printing as black is useful for printing PDFs that contain text only, or for printing engineering drawings that have lightly colored lines.
Click File>Print.
Select Print Color as Black, this prints colors as solid black, not in shades of gray.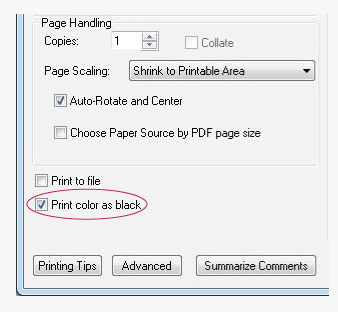 Note: If the checkbox is dimmed, click the Advanced button. Make sure that Acrobat Default is selected in the Settings menu of the Advanced Print Setup dialog box.
3. Click Ok to Print.